Regarding the temperatures of the outside environment, animal experts say that we should be careful not to harm our pets as it is cold for them also. It is a myth that the outside dogs are strong and tough enough to live normally in cold weather.
During the winter, Lori Bierbrier, a senior medical director in New York for ASPCA, said that we should only keep our dogs outside the time that is necessary for them to use the restroom.
We need to be careful and see if our dog has signs of hypothermia. These signs are similar to the ones we have as humans. Hypothermia can lead dogs to death if in a severe state.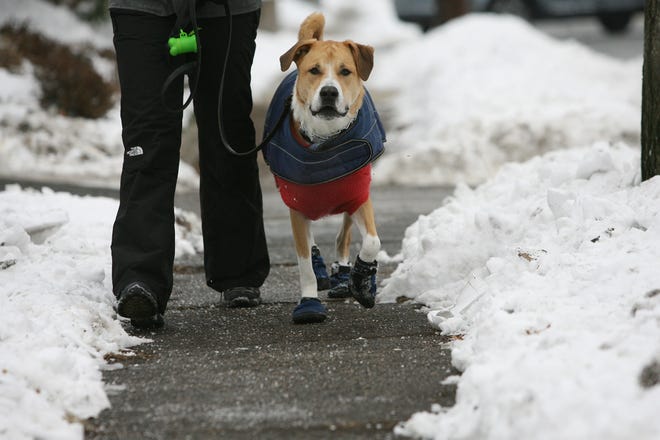 Some of the signs we should be careful of may be inactivity, stiffness of the muscles, breathing difficulties, pupils that are fixed and/or dilated, shivering, etc. In case we notice any of these signs we need to provide a warm blanket for our dog and call the veterinarian immediately.
During winter, it is easier for a dog to get lost as its scent is more easily lost in this kind of weather. This is why we recommend you always put your dog on their ID tag.
It is also important to protect our dogs from salt and ice burns. It is better to wipe the dog's legs, feet, and also their belly when they get inside after having spent some time in the ice on the snow. Also, get the ice balls off the dog as soon as they enter inside. You can do that by wrapping it with a dry towel in order to warm it in a gradual way.
Another way to protect your dog from the cold weather is to get them a sweater and also booties. Of course, this depends on the dog's age or breed or fur, and also size. So, it is better to consult a veterinarian before deciding to buy a coat or sweater for your dog.
Did you find these tips useful? Share your thoughts in the comments section on Facebook.